Last weekend hubby and I went on another adventure. Through work we had the use of a Land Rover Discovery 3L V6 which was an absolute blessing given the weather.
Friday was for me the highlight of the weekend as we were amongst the 12,000 that braved the atrocious weather to see
Alfie Boe
at the
NIA in Birmingham
- but more about Alfie later.
The weather was light snow and we found our hotel -
Ibis Budget
-n quite easily. Much to our relief the car park was outside and plenty of spaces so no worries about the height or size of the Discovery. The rooms were very clean and identical to the Etap Hotels we use in France - budget cost so no tea/coffee but a very good shower, flat screen tv and comfy bed.
Dinner was booked for
Cafe Rouge
at The Mailbox - this is our favourite CR so braving the now snow blizzard was definitely worth it, although we were wrapped up ready for the North Pole.
Cafe Rouge - The Mailbox, Birmingham
I absolutely adore the salmon nicoise, especially as it's totally free on my
Slimming World
plan. I'm not so sure about the
Ricard
or mini creme brulee, both of which are a must when visiting Cafe Rouge.
Braving the snow again, and driving wind we forced our way along the canal to the NIA. It's a huge venue which disappointingly had no big screen so Alfie was a wee bit tiny. However it's his voice that I love and for most songs closed my eyes to appreciate his beautiful tenor voice. The
Evening Star review
summed up the opening night of his Storyteller Tour perfectly - even Alfie's little slip up !!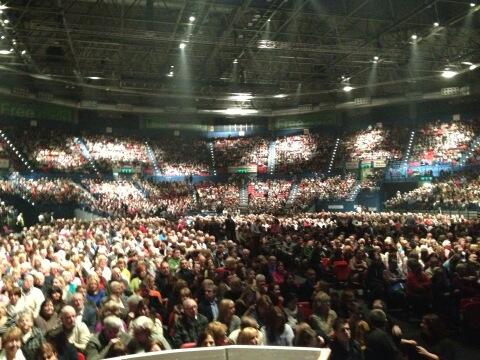 We are amongst this huge NIA crowd - can you see us !!
After the show we relaxed in
All Bar One
with some friends - I couldn't believe it was 12.40am when we left; left to fight our way back to the hotel in driving snow. It felt like New Year's Eve as everywhere was quiet apart from a few night clubs and the roads and paths were completely snow covered. Thankfully our hotel room was warm and cosy.
Saturday morning revealed 3 inches of snow - we trudged our way back to
Cafe Rouge
for breakfast as we were not going to miss having their French Toast and superb coffee. It was a tricky walk but not so windy; Birmingham was certainly waking up slowly as for a Saturday morning everywhere was very quiet.
Breakfast done we checked out, cleared the snow from Discovery and set off to Cardiff. The Birmingham roads were hardly recognisable but we found our way to the M5...
... and the M5 Droitwich had no snow! It was a very easy drive to Pontypridd to our daughter at
Glamorgan University
. We had a lovely afternoon meal at
Tynant Arms
- a Brains pub.
Tynant Arms
When in South Wales for the uni run we usually stay at Best Western in Cwmbran but it is a drive from Pontypridd. This time we stayed at the
Legacy International Hotel
just off the M4 and it was lovely. The bed was massive and the room warm, clean with tea/coffee and a spacious bathroom. Breakfast was a buffet with a variety of hot and cold food; we'll definitely be staying here again.
Our Sunday lie in was lovely before meeting our daughter and her luggage and travelling home (to snow). Another busy, exciting and very varied weekend.
We did have a challenge Sunday night - a wine tasting. I'd been chosen as one of the ten Team Tesco Taste Tasters and was sent a bottle of Piggy Bank Temparillo 2011 Extremadura to try. It's a red wine from Spain; here's the winemaker, Norrel Robertson's description:
Old, low yielding Tempranillo bush vines are grown on rich, deep red clay soils, which permit the development of extensive root systems so they can survive in a tough growing environment. The exciting region of Extremadura is located in the far west of central Spain, where the warm, dry continental climate is moderated thanks to the Guadiana River. The grapes were picked by hand, then crushed into small stainless steel fermenters. 50% of the blend was aged in American oak barrels for 5 months
Tesco Wine Community
is a fabulous place to chat with fellow wine lovers and we all posted up our Piggy Bank findings. Have a read on the forum, or under the review on the
Tesco Wine by the Case
website -
Piggy Bank
. A bonus for this wine is 50p from every bottle is given to charity.
Tomorrow is April 1st and spring must be on it's way - I'm not sure what our weekends have in store for the next few weeks but I'll be filling you in so keep a look out for my next post - cheers!