Hubby and I have had a fabulous 'Christmas present' weekend; we don't need ornaments, gadgets or food goodies so this year we independantly planned and booked a 'boozy' weekend break as our present.
It started Friday evening in Leamington Spa - a quick check in at the
Travelodge
was followed by diner at
Weatherpoons
. Both places ok as they were just the necessitites of the weekend, not the highlight. Our room was clean, quite spacious and the perfect place for a night's sleep, and our Mixed Grill / BBQ Chicken meals were the perfect way to fill our tums before .....
.....the first event !!
SH Jones
are an excellent wine merchant having shops in LeamingtonSpa, Banbury and Bicester. They not only stock a great range of wines, beers and spirits but have various events throughout the year. For us they had they perfect start to the weekend - a wine tasting.
Matthew Jukes
100 Best Australian Wines
As Wikipedia quotes '
Matthew Jukes is a journalist, author, wine buyer, lecturer and wine judge. He has been the wine correspondent for the
Daily Mail
since 1999 and he also writes a weekly column for
MoneyWeek
, a monthly column for
The Week
and occasional features for
Decanter Magazine
. He is responsible for the wine lists at several top London restaurants including Bibendum Restaurant, Chutney Mary, Amaya and Veeraswamy as well as the private wine club Quintessentially Wine worldwide.
He is one of the world's leading experts on Australian wine and each year compiles his '100 Best Australian Wines' list and he takes the wine on the 100 Best Roadshow around the UK
. '
SH Jones had organised a great evening - a glass of Jansz Brut 2006 as we arrived got the evening off to a bubbly start. Matthew shared tasting notes on 12 wines throughout the evening with the SH Jones team topping our glasses up with the next taster. In between we also had the opportunity to sample another 36 of the 100 Best.
Our first main tasting were all white; Riseling, Semillon, Pinot Gris and Chardonnay - all very good wines but not for me. Much as I like white wine my palette prefers Old World whites from the Loire. However I did enjoy, really did enjoy the Australian shiraz wine but before we got there we tasted two Pinot Noir wines which were again very good - the price of Matthew's choices ranged from £9.99 to £59.99 so as I said very good wines.
The final four reds were superb, quite a surprise for me as they got heavier by the pour but I think suited my taste as they had very little tannin; the big red 'put off' for me. My absolute favourite red was one from the table tastings, '2009 Yalumba FDRIA' just the bouquet had my head nodding with approval followed by the taste being so smooth, so rich but soft without the 'tut tut' after taste. Not the cheapest intheroom but so delicious we have ordered a bottle for that 'special occassion'.
Matthew's final tasting was a superb sweet wine 2008 De Bortoli Noble One - this was very smooth, lots of fruit and I thought honey; poured over a smooth vanilla ice cream would be dessert heaven.
We had a wonderful evening and the following morning called into SH Jones shop to purchase a few other wines to bring home:

Plaimont Cotes de Gascoigne Sauvignon
Vouvray Demi-Sec, "La Forcine", Auguste Bonhomme

Pasquiers Grenache Noir
Yalumba Shiraz
We also purchased some organic strawberry beer which is going down very nicely as I write this blog and watch England beat Ireland in the
RBS 6 Nations
If you ever visit Leamington Spa (or Banbury) you certainly must pop into
SH Jones
- a wine merchant with something for everyone.
You should also pop into
Cafe Rouge
- as my regular readers know it is my favourite place to eat and Saturday was a real treat as we were there for breakfast. Their French Toast is delicious, topped with fresh banana, blueberries and strawberries all drizzled with honey - accompanied by a superb Americano coffee - maybe I need to get up early every weekend for a CR breaksfast.
So that was the wine but what about the beer (strawberry aside) ...
...... the next event of our 'Christmas present' ...
.... a visit to
Hook Norton Brewery
in the Cotswolds. Tucked away at the end of Hook Norton village it was an amazing sight to arrive at, such an impressive building.
Hook Norton Brewery
In their own words
'Hook Norton is one of only 32
family owned breweries
and is the finest example of
a Victorian Tower Brewery
in the country. Of course, the brewery is about so much more than just its fantastic range of
award winning beers
. We welcome over 10,000 visitors a year to our
Visitor Centre
and over
40 of our pubs
are at the heart of many of local communities, serving great drink and food to the region.'
We had a brilliant tour with Chris and his Hook Norton accent - his knowledge and obvious love of the brewery and all it's original working parts made the tour feel very personal. Unfortunately the brewery isn't working at the weekend so we will be visiting again to see it up and running, walls vibrating and all. The
Brewing Process
page of their web site explains the whole story.
After the tour we were treated to a tasting (or 2, or was that 3, or maybe more?). Here's the beers we tasted:
We also tried their Twelve Days Christmas beer which was hubby's favourite and very good - my favourite was the double Stout as I prefer a rich beer but each one went down very well. Watching the rugby was an added bonus - thanks Richard (we are there, can you spot us)
Our wine and beer weekend was completed by a stay at the local pub
The Sun Inn
- it made a change to visit a brewery and enjoy the tasting as I am usually the driver. The Sun Inn is a traditional pub with The Red Lion Coffee Shop in part of the pub; if offers accommadation, good food and has a function room.
Our double room was spacious with a lovely modern ensuite shower room, tea/coffee facilities and a flat screen tv. It was a little chilly but since we'd had snow on the way the weather was on the cool side anyway.
We had a massive plate of cod and chips for dinner, very nicely cooked, with a crispy but not oily batter followed by a shared platter of 7 varieties of cheese with biscuits. This morning we've enjoyed a full English breakfast before travelling home after our very very successful and boozy 'wine and beer Christmas weekend'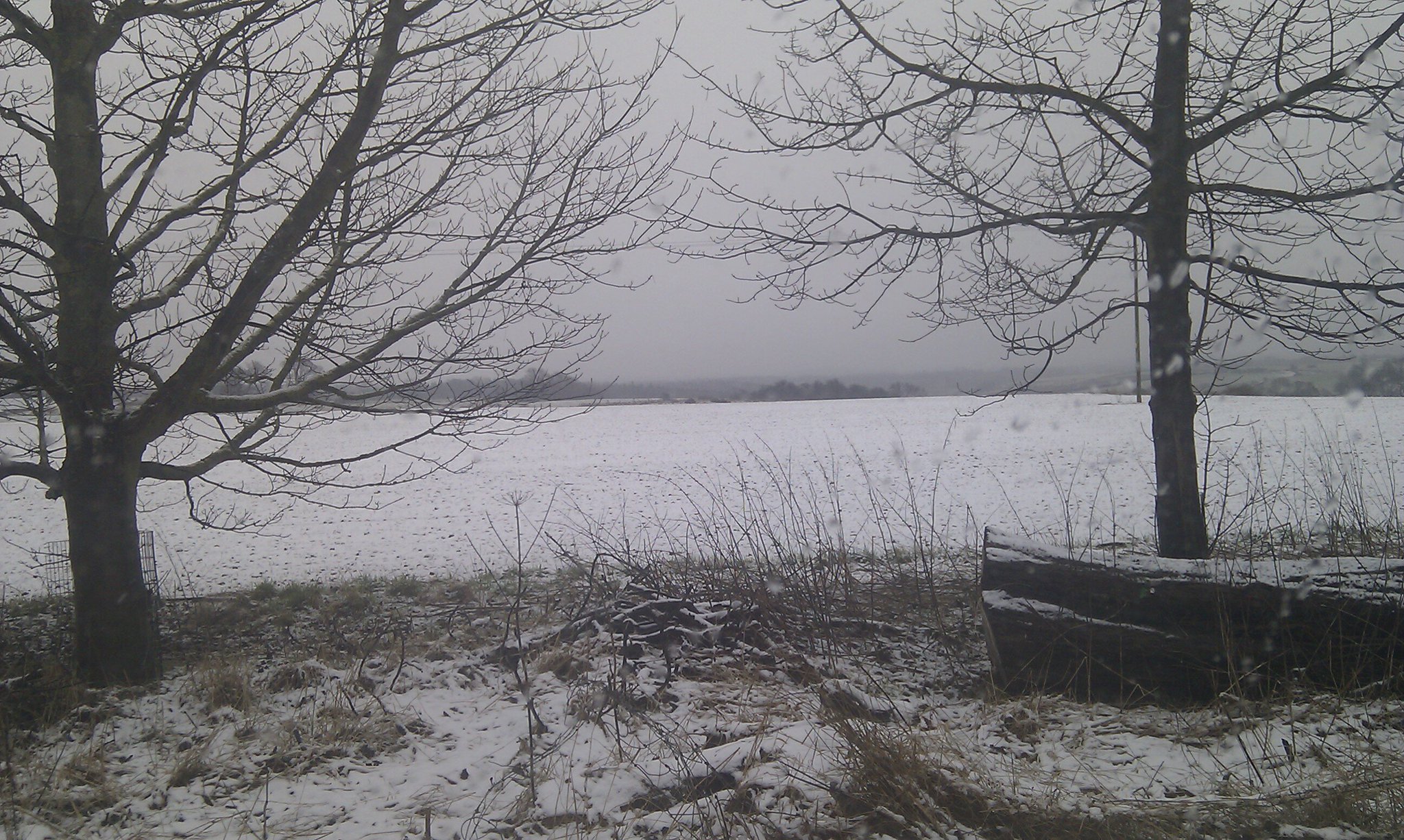 Snow in the Cotswolds
Thank you to everyone who helped make it a perfect Christmas present - especially
SH Jones
,
Cafe Rouge
and
Hook Norton Brewery
.